ME!!! Oh, yeah......an' the folks an' O'Mally.
Uncle Kev an' Aunt Laura an' Sal had us up fer dinner last weekend! We had a real good time, an' that gal can COOK I tell ya what! I do believe she could take roadkill, toss it on the grill, an' no one would be the wiser!
(Uh......that WASN'T roadkill ya fed my folks, was it?)
Anyhoo, she rustled up some chicken liver muffins fer us pugs! Come on, woman! I'm starvin' tuh death an' my blood sugar's gittin' low!!!
Mmmmmm........chicken liver.
Mom made sure Sal knew them muffins weren't just fer company!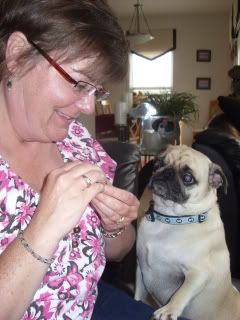 Speakin' o' Sal, him an' my dad did a little pre-dinner bondin'.
Now lemme tell ya 'bout the human eats.....New York strip steak with some kinda fancy finishin' butter, twice baked potatoes, grilled asparagus.........mmmmmm! Oh, yeah....an' some kinda fancy appetizer. I think it's called brew-shed-uh. (Huh. Wonder if it's some kinda brew she whipped up in the shed?) THEN there was her famous "Are ya freakin' kiddin' me" chocolate cake!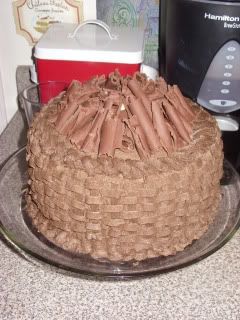 I din't git none but that thing looks better than ANY
MoonPie
! An' I KNOW MoonPie.
So after dinner we headed tuh the livin' room fer a
little tv
an' socializin'. Uncle Kev was nice enough tuh let me have the man chair!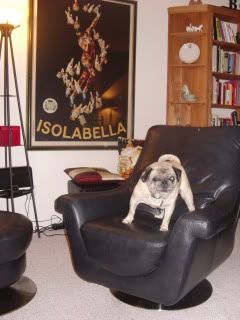 Yeah, I know......it ain't PBR, but I din't want tuh be rude an' turn down his sissy beer.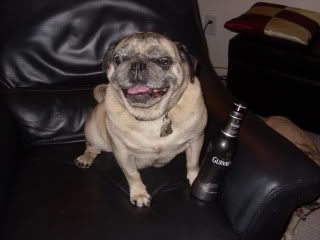 Even Sal's pal, Nipsy, came out tuh say hi!
Here's Sal sayin' "Cripes, people! Look at the time!!! It's been fun and all but I need my beauty sleep!!!".
O'Mally had tuh give me the hint that we might o' overstayed our welcome!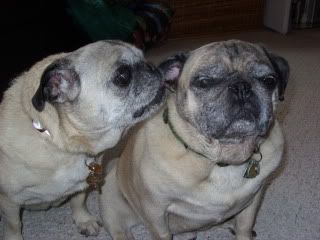 The humans was still laughin' an' bumpin' their gums so Sal had tuh pull out the big guns.........
"Strain family! Get in your farkakte car and GO HOME or I'll drive you there myself!!!!"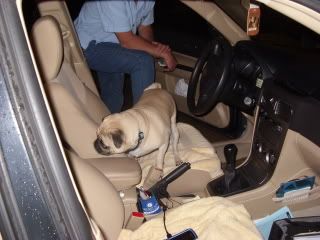 "Sorry, Sally.....I tried! (You know I'm the only one in this family with ANY manners!"